Short Links... Do big.
Create shortened URLs, unique Business CARDS and get proper analytics of your visitors. Elevate your online game with cutting-edge shortened URLs, unforgettable Business CARDS, and advanced visitor analytics that fuel data-driven decisions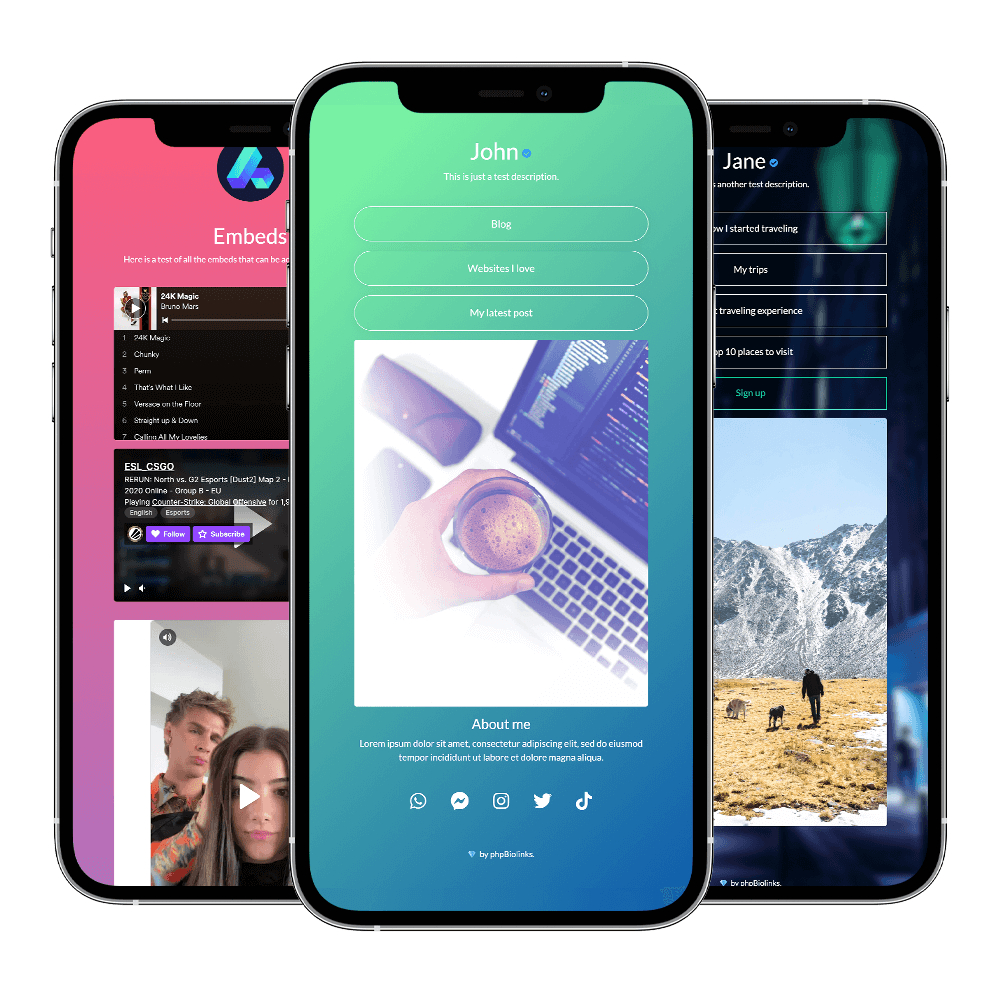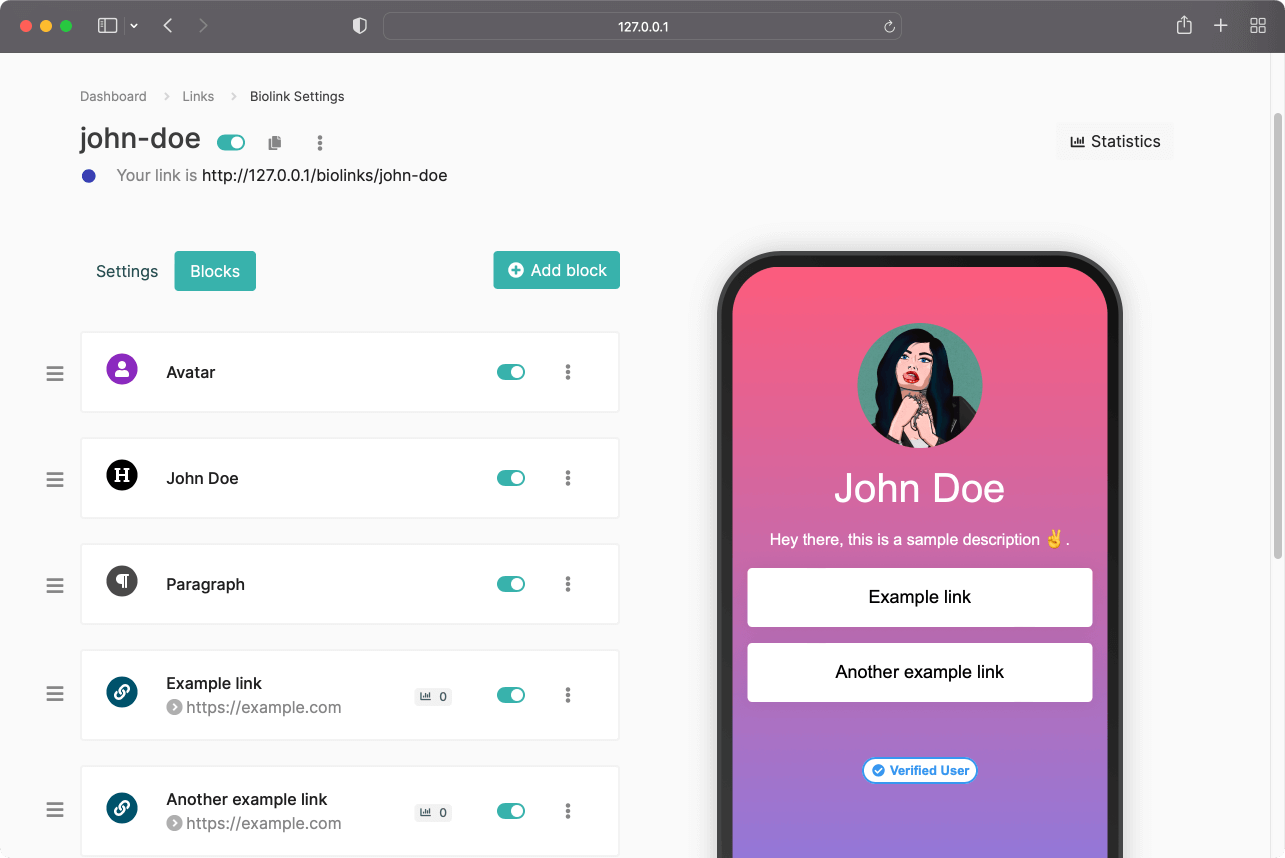 E-Business cards
Maximize your online potential with shortened URLs that make a big impact, captivating Business CARDS that showcase your brand's personality, and cutting-edge analytics to guide your marketing strategy.
Custom colors & branding

Multiple ready-to-use components

SEO settings

Password protection, sensitive content warning
Telegram Messages Notifications
Receive Notifications about customer QR Code Scans or Customer Clicks on your biolink in instagram. It means once customers click on your link to view the links you may receive notifications on your device and of course you have to give them heads up with cookies and privacy and this give you ability to have better alytics over your business card scans or your customer behaviour
Telegram Bot @link3_by_bot

Receive Notifications

On Telegram Platform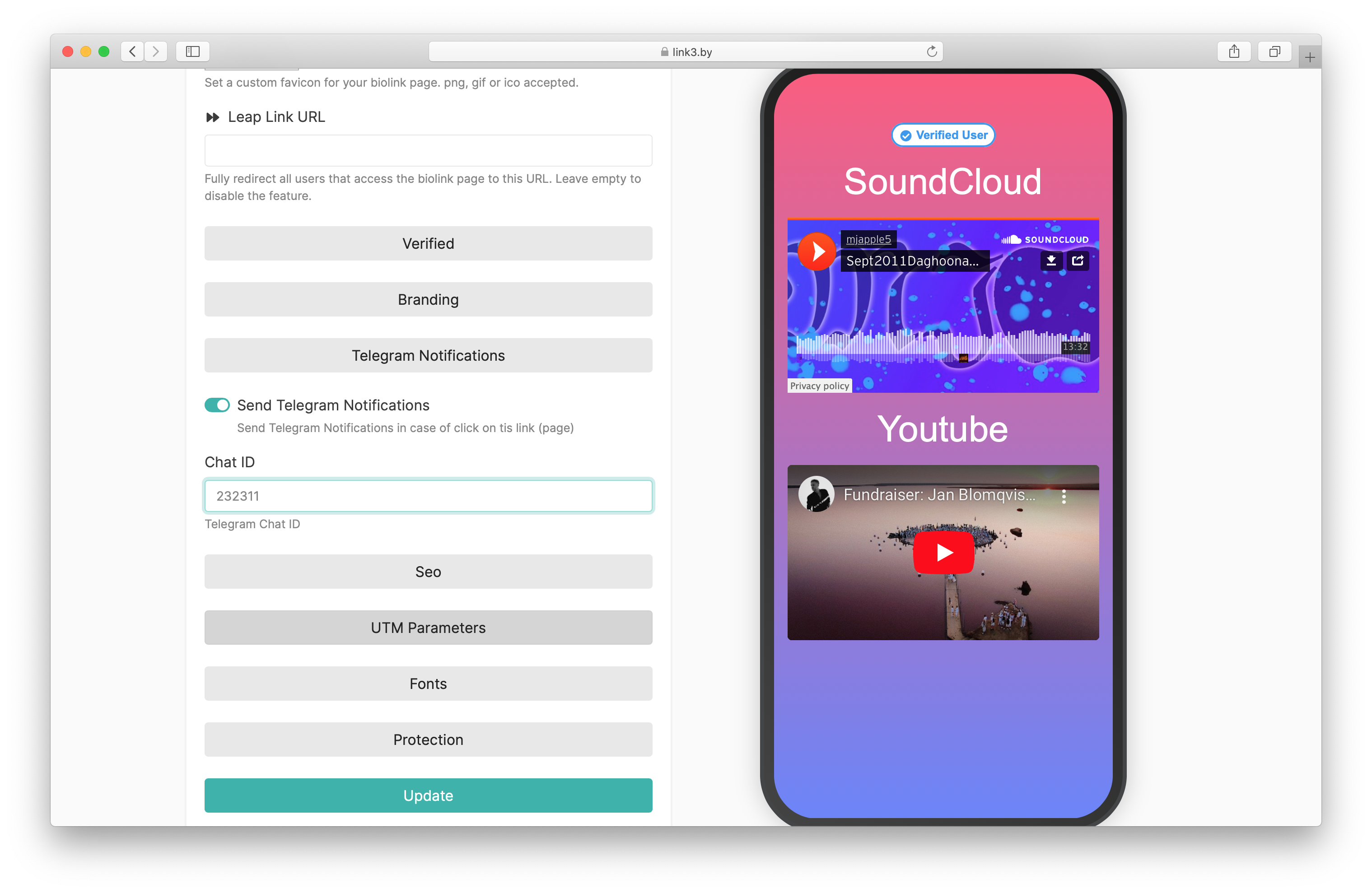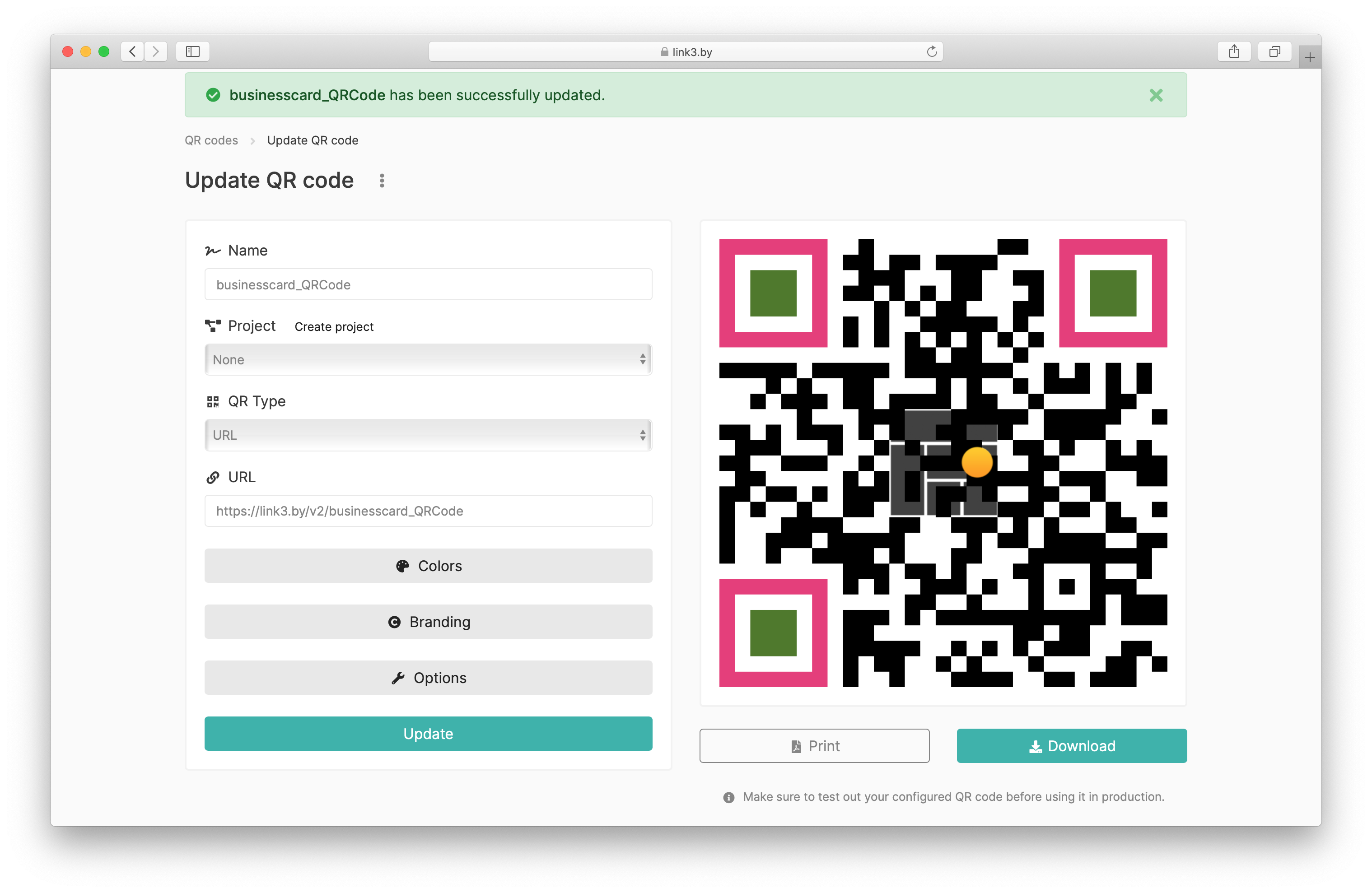 QR Codes
Revolutionize your networking game with QR codes that go beyond the ordinary, transforming your business cards into captivating visual experiences customized to reflect your brand's personality.
Custom colors with gradients

Custom logo

Vcard, WiFi, Calendar, Location..etc templates
Built-in analytics
Experience the transformative potential of shortened URLs that pack a punch, captivating Business CARDS that leave a lasting impression, and robust analytics to fuel your marketing success.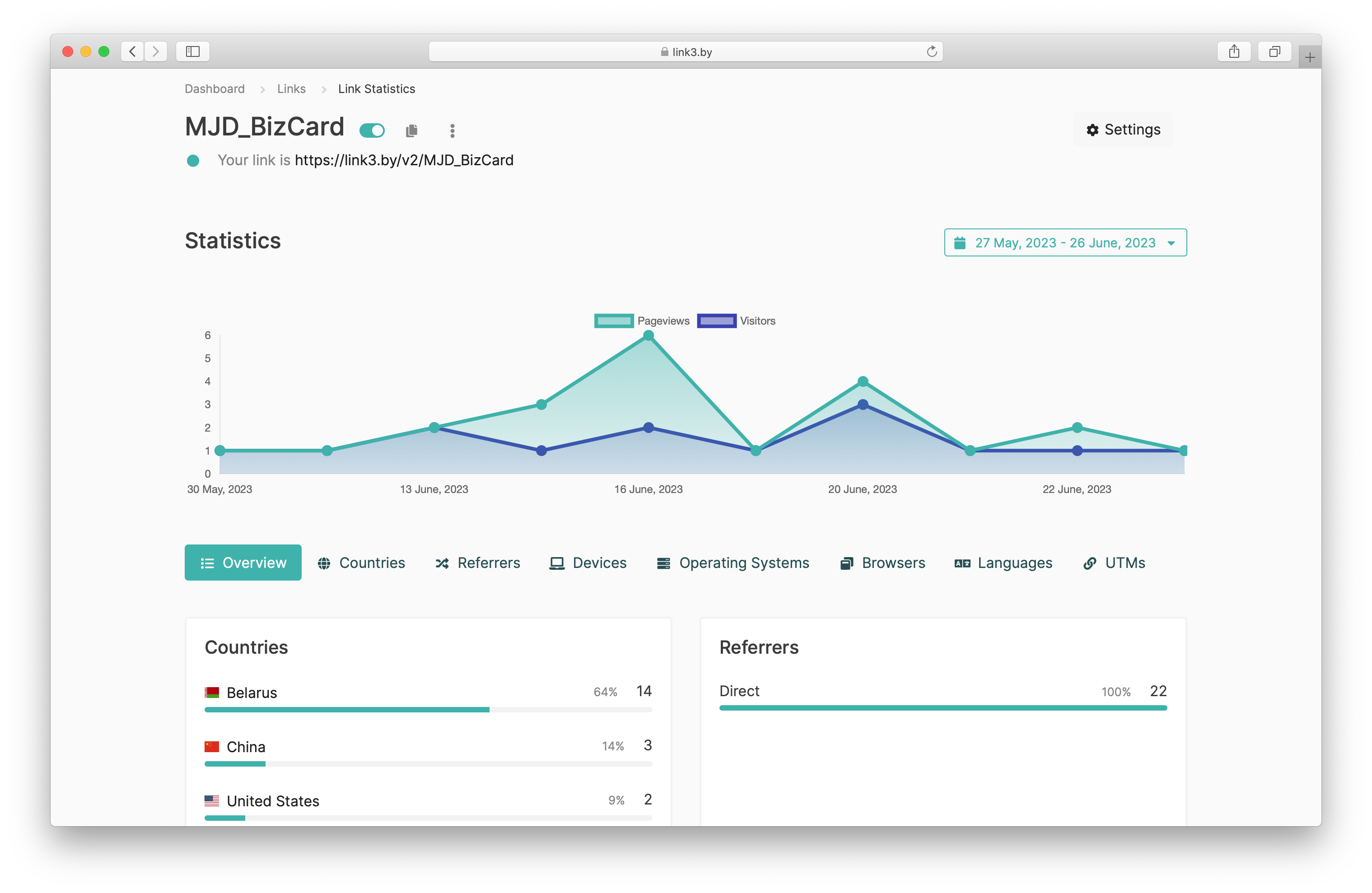 Tracked pageviews
44,426+
Effortlessly organize and categorize your links and business cards with our intuitive 'Projects' feature, providing you with the easiest and most efficient way to manage your valuable resources. Easiest way to categorize your managed resources.
Gain a competitive edge by leveraging our advanced tracking capabilities, effortlessly connecting with popular platforms such as Facebook, Google Analytics, Google Tag Manager, LinkedIn, Pinterest, Twitter, and Quora, and unlocking invaluable visitor insights for informed decision-making. Facebook, Google Analytics, Google Tag Manager, LinkedIn, Pinterest, Twitter, Quora tracking pixels available.
Amplify your brand's online impact with the freedom to connect your domains effortlessly, whether it's your own custom domain or one of our carefully selected options, ensuring a seamless integration with our powerful platform & Experience the ultimate in domain flexibility and branding prowess as you connect your domains to our servers, allowing you to harness the power of your own custom domains or explore our thoughtfully curated predefined choices.
Pricing plans
Choose and get exactly what you need.
Standard
Standard Modules and Functional Options
5 Biolink Pages

5 Biolink Blocks

5 Shortened Links

1 Projects

1 Pixels

10 QR Codes

5 Enabled Biolink Blocks

5 Custom Domains

3 days statistics retention

Additional Global Domains

Links scheduling & limiter
Choose plan
Unlimited Biolink Pages

Unlimited Biolink Blocks

Unlimited Shortened Links

Unlimited Projects

Unlimited Pixels

Unlimited QR Codes

Unlimited Custom Domains

Unlimited days statistics retention

Additional Global Domains

Links scheduling & limiter
Choose plan
Unlimited Biolink Pages

Unlimited Biolink Blocks

Unlimited Shortened Links

Unlimited Projects

Unlimited Pixels

Unlimited QR Codes

20 Enabled Biolink Blocks

Unlimited Custom Domains

30 days statistics retention

Additional Global Domains

Links scheduling & limiter
Choose plan
WITH TELEGRAM NOTIFICATIONS
This is the package including everything and get notified in telegram messenger app
Unlimited Biolink Pages

Unlimited Biolink Blocks

Unlimited Shortened Links

Unlimited Projects

Unlimited Pixels

Unlimited QR Codes

0 Custom Domains

99 days statistics retention

Additional Global Domains

Links scheduling & limiter
Choose plan